So I had tried to get tickets to Open Water Swimming at the Pan Am Games… but they were sold out?!  Kinda sucked.  I especially wanted to see Canadian, Richard Weinberger swim.  He was the defending Pan Am Games champ and bronze medalist at the last Olympics!
David, Al, Mike, Ron, Joanne, Dylan and I went out for a 100k ride in the morning.  David did a good sales job on me, he said he went with his daughter to see rugby and it was great.  Just a really cool experience.  "Doesn't matter what you see, but you really should do yourself a favor and make the effort and go see SOMETHING".  So I thought I'd check the computer to see if they had released more tickets.  It was 2:00 and the race started at 3:30, so it seemed unlikely.  They hadn't.  But Joanne walked by the computer a couple minutes later and they just released a bunch!  So we did something I love doing… we were spontaneous!  We bought them online, jumped in the car and flew downtown (and yes, traffic was fine!  And no, I was not like Rob Ford and went in the carpool lane!… we had to take 2 cars).  In no time we were at the CNE wandering through the grounds of the Pan Am Games.  As I said at the time "I know I'm probably biased because love this kind of thing, and I love open water swimming, but this whole thing is pretty exciting".  The place was packed.  And the excitement was palpable.  Cool.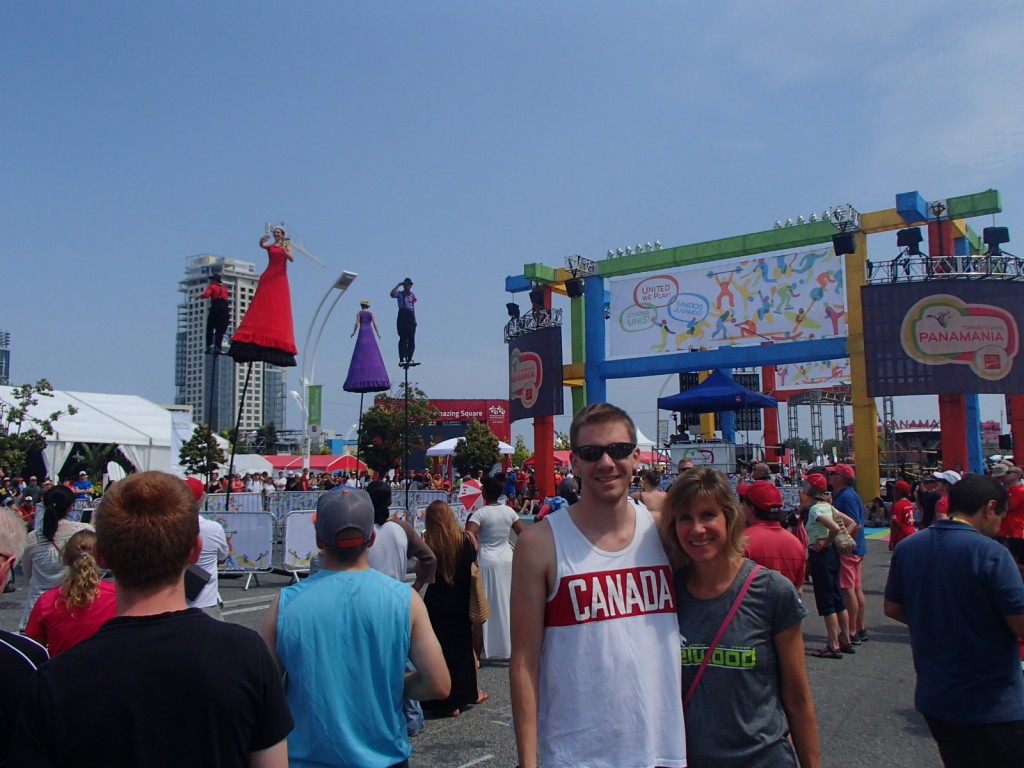 As for the race. It was great.
So it is 10k (or 6 miles)… so they did 6 x 1 mile loops.  Which means the course was a half mile long.  Which means you could see virtually the whole race.
As I think is the case with a lot of events, there are some of the best in the world, but the depth isn't the same as the Olympics.  But still the top guys were really freakin' fast.  The first mile was just over 19 minutes.  Fast.  The second was faster, 18 minutes and change.  And guess what, like any really good endurance athlete, these guys know how to pace themselves.  The next 2 laps were within seconds of the previous lap.  And yes, they negative split the whole race.
I believe there was 18 swimmers in the race.  And like any endurance race it's all about pacing… and then pushing the pace and seeing who can hang on… and then, because drafting is so important, it comes down to who has any gas left in the final pack that was able to hang on!  Oh, and with regards to drafting, Richard pulled the whole last 3 miles… but hindsight is always 20/20.  Lots of strategy in this race!  Not only is this race probably the hardest swimming race out there… it is also a "thinking man's race"!
Well, the race didn't disappoint.  Kevin McKinnon and Barrie Shepley did an awesome job commentating, which only added to the excitement.  First they were a pack.  Then the perfect "V", like a flock of birds.  Then single file.  Then a shorter single file as guys got dropped.  Then the final sprint was Canadian Richard Weinberger, 2 great Americans and a Brazilian.  Well, you win some and you lose some… Richard got squeezed out for 4th.
I saw his interview after and he said he wasn't fully tapered as he also has Aquatic World Championships in 2 weeks… but that "he could take those guys".  I like it.  It might sound a little cocky, but I like guys that talk big… and then live up to it.  And he has.  I'm not the biggest fan of the overly polite stereo typical Canadian type… I guess I still miss guys like Victor Davis.  I like a guy who isn't afraid to put it all out there and not apologize for it.  I like unabashed competitors.  Guys who hate to lose.  Really hate to lose.  I'll cheer for guys like that 'til the cows come home.  Go get 'em at Worlds, Richard.  The LOSTies will be pulling for you!
Cheers,
Rob