Yup, that summer came and went very quickly.  It felt like we waiting for it to come and it kind of came and went before we really got into it.  But it was a fun summer of LOST Swimming.  Lots of "cold water training" and a couple of "rough water training sessions" too… as well as just a "perfect swims" too.
People always ask me when LOST Swimming starts and when it ends… and the answer is the same… when the Lady of the Lake let's us!  We usually start around June 1 (maybe May 1 if you really want to get some cold water training in!)… but the end of season varies a bit more.  Sometimes it ends in early September… and sometimes the door is wide open until early November!  And this year the door was slammed shut pretty early… and clearly.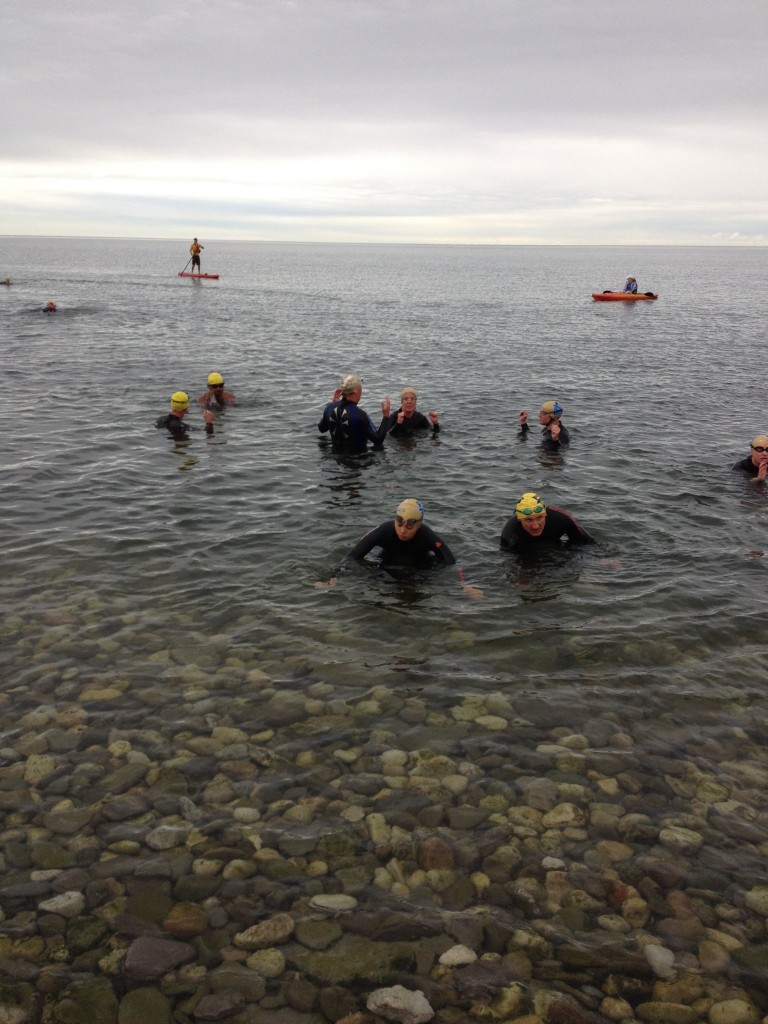 Typical of Lake O, there was no warning.  Darren was on a roll… he had been in for a swim 12 of the last 14 days… and couldn't believe it had rolled.  Believe it.  On Saturday we had a good crowd of about 30 swimmers out… and almost beat the swimmer to temperature ratio!  I took the temp right at shore and it was about 51F…. however upon entering the water with all 40 or so other crazies, I realized it was a smidge colder than that!  It was 48F!!!  As I always say about swimming in the 40's… that's "crazy cold"!!!
Having said that, we all went in for a nice little dip and had a very good percentage of the swimmers come up to Brett's coffee shop for a nice warm drink after!  And yes, there were even a few that went in "naked"!  Madhu, Cathy and a few other tough guys!
Having said that, don't forget that there is still at least one good swim left… The Caledon Quarry Swim II!!!  It is also the last swim in the Canadian Open Water Swim Series!!!  So last chance to grab some more points and improve your standing in Canada!  There will be 1k, 2k and 4k distances… a BBQ and a very low entry fee of just $20!!!  We just want to get you up there and have a fun season ending swim!  Check out the details here: http://www.personalbest.ca/workouts-events-camps/weekly-workouts/83-caledon-quarry-swim
Aside from that there is another swimming event… if you want to travel a little further than Caledon… check out this swim meet and open water swim races at the Barbados Swim Festival in October: http://www.swimbarbadosvacations.com/
So we'll see you at the Caledon Swims… and stay tuned… more events to be announced soon too!
Cheers,
Rob